Our Services
Building Confirmation and Inspection Service
The owners that are about to start construction are obliged to acquire a certificate confirming that their architectural plans conform to the Building Standard Law and related regulations before construction begins. The owner is also obliged to acquire a certificate confirming that, after completion of the construction work, the building was subject to a final inspection before it was put into use and that it conforms to the relevant laws. We issue Confirmation Certificates and Inspection Certificates as a Designated Confirmation and Inspection Body.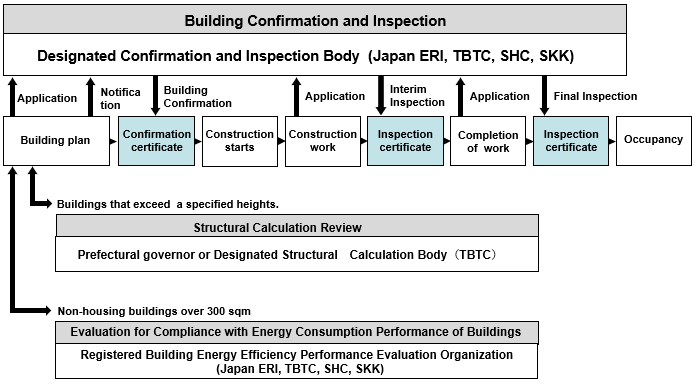 NOTE
Building Confirmation and Inspection Service
Current Situation in Japan
Housing Performance Evaluation Service
In order to make the purchase of housing as safe as possible and to facilitate the comparison of housing, the housing performance indication system was introduced on the basis of the Housing Quality Assurance Act. This system is optional, but if the building owner decides to take advantage of it, a Housing Performance Evaluation report is issued, assigning the building ratings of building stability and air quality etc.
We issue Housing Performance Evaluation reports as a registered Housing Performance Evaluation Organization.


Solution Service
As a business on under-construction and existing building, we provides the following services, Assessment of Compliance with the Building Standard Law Service, Due Diligence service such as to create PCA reporting ("Engineering Report"), Inspection service such as Bldg. Condition Assessment and Construction Audit, Housing Design Performance Evaluations of Existing Building, Technical Assessments for Long-life Quality Housing (extension and renovation), Other Inspection services such as Home Inspection, CASBEE Certification, etc.
Other Services
We also provides the following services of distribution diagram with a view to ensuring building and housing safety.
Distribution Diagram of Our Business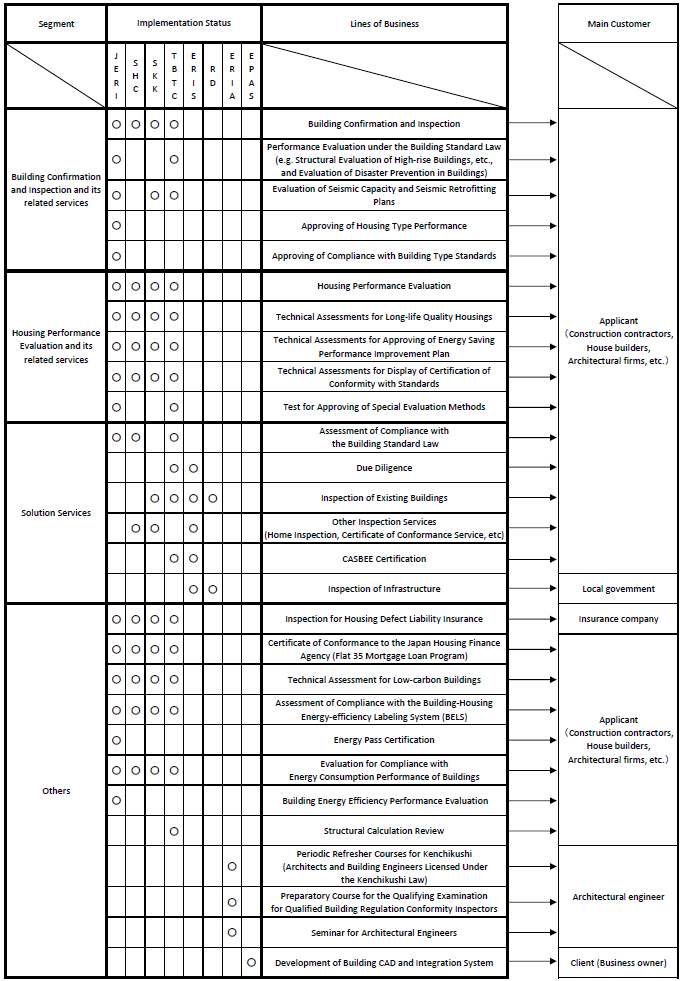 Abbreviation of group subsidiaries;
JERI: Japan ERI Co., Ltd. SHC: Jyutaku Seinou Hyouka Center Co., Ltd. TBTC: Tokyo Bldg-Tech Center Co.,Ltd.
SKK: Sakoken Co., Ltd. ERIS: ERI Solution Co., Ltd. RD: Kozo Sogo Research and Development Inc.
ERIA: ERI Academy Co., Ltd. EPAS: EPA System Co., Ltd.